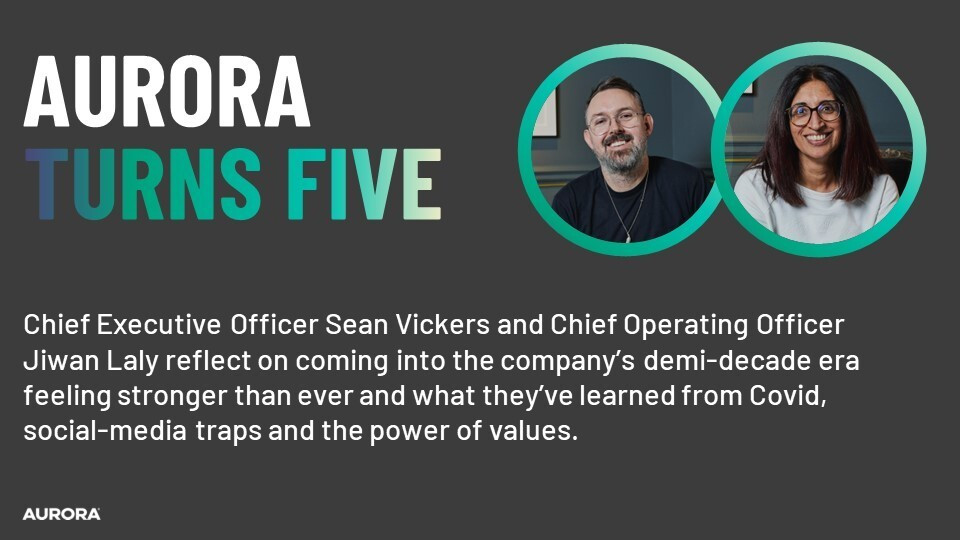 Published on
27 October 2022
Under the category
Chief Executive Officer Sean Vickers and Chief Operating Officer Jiwan Laly reflect on coming into the company's demi-decade era feeling stronger than ever and what they've learned from Covid, social-media traps and the power of values.
Then vs Now
Sean Vickers: There was a moment in time when Jiwan and I were sitting in a large financial institution in complex roles. I'd been in that organisation for nearly twenty years and to some extent was institutionalised. By institutionalised, I mean stuck within corporate paradigms and ways of working.
Looking back over the five years since we left that institution to start Aurora, one of the things I'm most proud of is developing a culture that's based around integrity and honesty. We expose all of our values, our vision and mission to the team and we constantly check that. Those things are so important to a business and for a lot of larger corporations, they become the realm of head office. You get a lot of people drinking their lattes and talking about what's important but there's a huge disconnect with the team in its entirety. So, one of the things I think about a lot is why values exist and making sure we really live by them.
Jiwan Laly: At the beginning of the five years, we were all trying to do everything. I think all start-ups must be like that. Everybody's running around filling holes and working hard to get everything done. What we're seeing now as we come into this fifth year is that we're much better in structuring and giving accountability to individuals in the business, rather than just seeing a gap and trying to fill it. We're really starting to mature. We're moving away from an unstructured, trying-to-do-it-all approach and moving towards structure, governance and looking at what our teams really need.
The reality of running a business
SV: When we hit five years, I realised we were running the consultancy we thought we'd have at twelve months. It's so easy to think 'We're going to create a consultancy! It's going to be a smash hit! Everyones going to love it.' The reality is, we started Aurora on a Monday morning and we didn't have a single client. Where we are today with our fantastic team, five-year strategy and our advisory board and wider team has taken longer than we thought. The idea you have at the beginning is probably five years away. Even now, a lot about what we think about in terms of growing as an organisation is actually five years away. We're more honest about the time it takes to really get things done properly whilst keeping core values intact.
JL: One of the big learning curves for me was growing the team. Looking back I think we spent too much time being weary of taking on the internal costs. As a small business, we really worried about that. 'Have I got enough money in the account to pay 2, 3 or 5 people?' And then it's kind of the opposite of that, knowing that in order to grow, particularly for a consultancy where you're relying on people for knowledge, you can't grow unless you're brave and start to bring people in.
That step change from four people to twenty people requires you to be able to accept a level of risk - you need to be brave and get on with it!. How do you explain to people that you're interviewing that 'Hey, we are a small business and vulnerable and we may bring you in and it may not work.' Based on our values of being honest and open though, we encouraged people to come in with open eyes. Our commitment has always been to bring people in and offer access to all of the knowledge we have, to make sure we train people properly and share assignments. Now looking at our team, there's such a strong mix of skill sets and knowledge. It's been really fun to watch that grow and that's the thing I am most proud of.
"The truth is, starting a business is hard and a total see-saw. There's no through-line. We're incredibly ambitious as a company but I feel the more people can be honest about that vulnerability, the better."

SV: People don't talk enough about that vulnerability you just touched on. When you are starting a business, the messaging and tone of voice is totally up to you but I do feel that on social media, particularly LinkedIn, it's almost like if you haven't launched and smashed your market in twenty-five seconds, you're a failure. There's a toxic positivity out there. I get nervous around how some start-ups present on social media. The truth is, starting a business is hard and a total see-saw. There's no through-line. We're incredibly ambitious as a company but I feel the more people can be honest about that vulnerability, the better.

Covid-induced transformation

JL: Covid has been a great leveller. Pre-pandemic for me, it felt difficult to believe I was on level-base particularly if I was sat round a table in a male-dominated environment. All of a sudden, when everybody was at home, in their sweatshirts working from a desk in their bedroom or living room, it felt different. Now, I can be on a video call with three others and those people are really listening to me,not worrying about how I look or who I am in the room compared to everyone else. I feel more heard than I did when I was in a busy boardroom when there was ten men and me. It's made it easier to be me. It's given me confidence that 'authentic me can be heard'.

SV: Yeah, Covid was the ultimate leveller. It forced us to think about who we were as an organisation. Kind of in an existential way- like Who are we and why do we even exist? A lot of companies didn't survive the storm but alot did. Many places actually thrived because they repositioned. Covid helped Aurora redefine its direction.

We've always had this thing about treating people like adults. We're not an adult day-care centre, our job is to work with brilliant people and get an outcome that is aligned to our values. Covid introduced this hybrid approach of office working meeting from home working that we will continue. I don't want to take someone away from their home office. An employee can be working from home with their cat on their lap and a cup of coffee and it works. Not having to commute everyday works. What we've learned is that the office space is now entirely different. We want to use it in a much more innovative way where we bring people together when they need to be.

The best bits

JL: Being able to do all of this beside people who started with me has been a real bonus. Knowing that I wasn't alone meant that I immediately had someone else who had the same aspirations as me and when I was either worried or happy about something, I could go and talk to my business partner. That's a huge thing for me, having support, sharing risk and reward.

SV: And watching how that's grown. We now have a full team and a culture I'm really proud of. I also really enjoyed our recent rebrand. That was born out of that Covid moment I touched on earlier. We realised we had real strength in the CLM space and that we had no desire to be generalist consultants. We saw that our shop window was slightly misaligned to our strengths. So we trademarked 'The CLM Experts' and are continuing to develop a tone of voice that is authentic to how we speak and interact. It's smart and fun!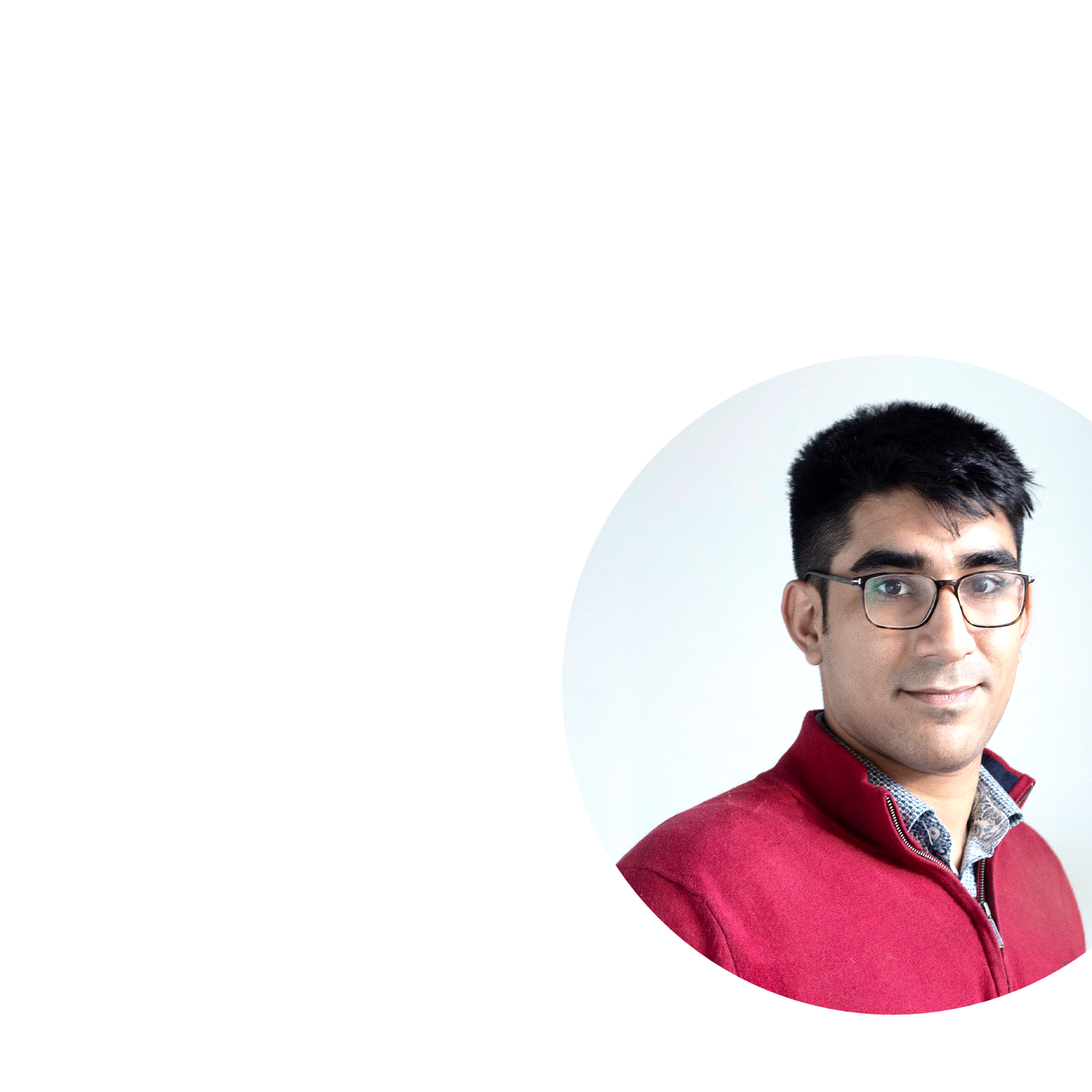 Aurora Business Analyst Saihej Mangat and Delivery Lead Joshua Dent discuss the importance of flexibility and training when transitioning from education into full-time employment.
In this candid conversation, Aurora CEO Sean Vickers and Encompass KYC Transformation Director, Howard Wimpory, delve into the challenges and misconceptions surrounding digital transformation in the banking industry. They discuss the importance of reimagining processes from start to finish, eliminating manual steps and implementing automated solutions, rather than piecemeal improvements.
Continue Reading
»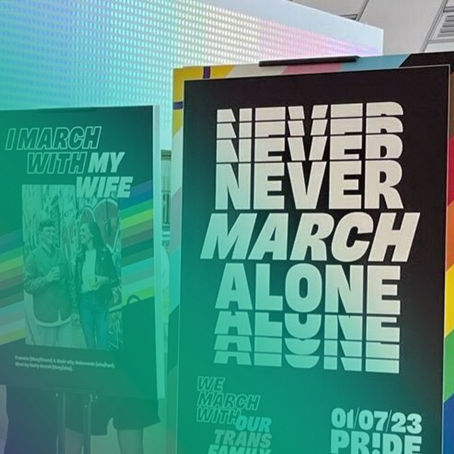 Staying true to our ethos that alignment with the LGBTQ+ community shouldn't just be contained to the thirty days of Pride Month, we're keeping the celebrations going. What better way to do this than by sharing a one-to-one chat we had with Pride In London Director of Marketing Tim Noblett. Aurora CEO Sean Vickers sat down with Tim just a few days before Pride weekend to discuss what true allyship looks like in 2023 and why this year, Pride in London was a call to action to support the trans community.
Still haven't
found what you're
looking for?
Get in Touch
Be the early bird and get in touch today if you have any questions, thoughts or ideas. We'd love to hear from you.