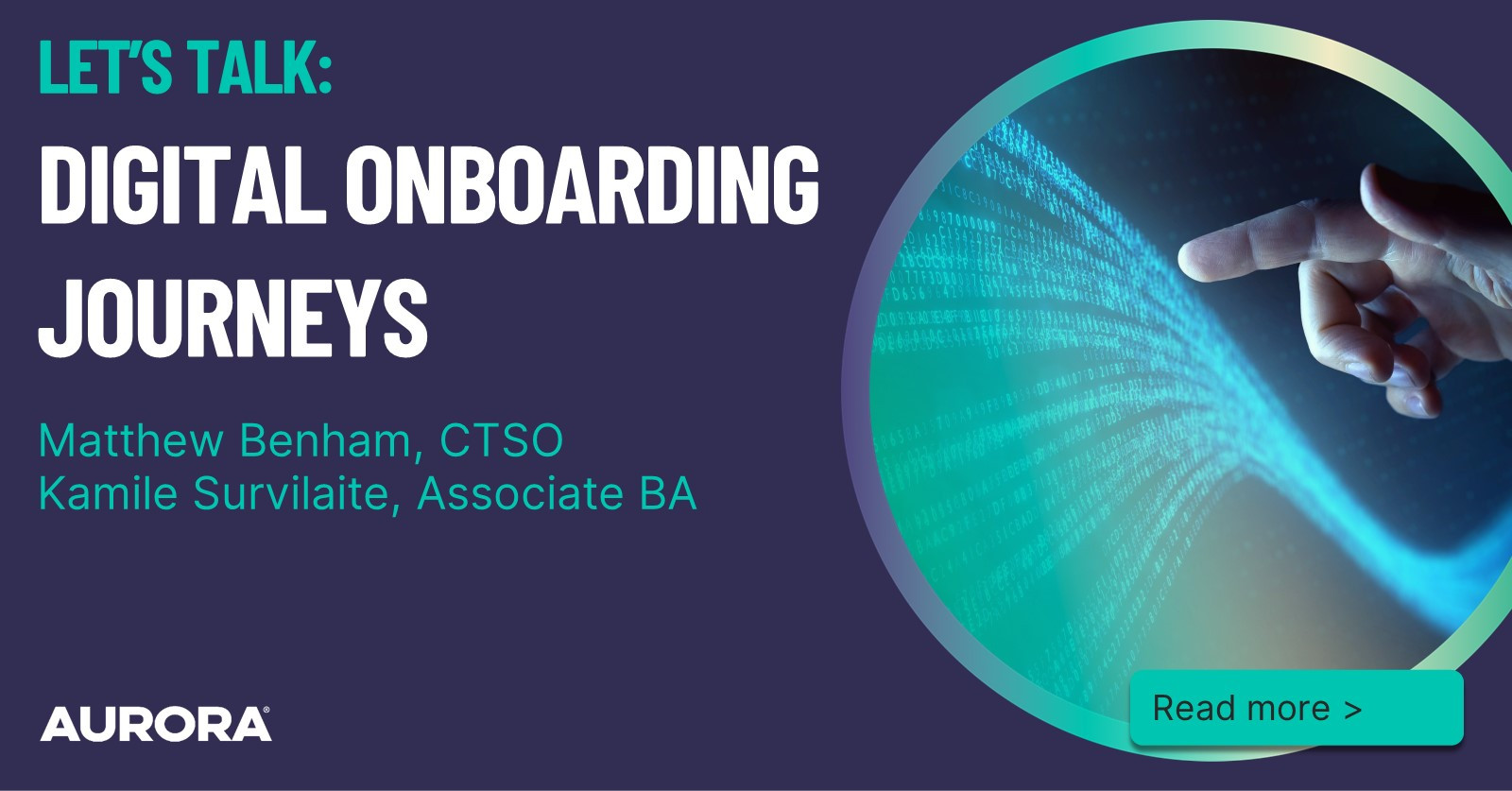 Under the category
In this second short article in a series on Digital Journeys, Aurora CTSO, Matthew Benham, and Associate, Kamile Survilaite, explore the differences in digital onboarding journeys across the key banking segments and the factors influencing their level of maturity.
Key takeaways:
The maturity of digital onboarding journeys in Financial Services can be broadly categorised into three models.
Maturity is driven by the customer's digital expectations and the complexity of delivering on those expectations.

The level of complexity to deliver is driven by products, customer types, technology landscapes, and the likely regulations and requirements.

Due to their nature of complexity and customer expectations certain segments may always require a human touch.

The digital transformation of banking has revolutionised the way customers onboard and engage with financial institutions, however, the level of digitisation across different banking segments varies hugely. As a result, the customer experience of an individual interacting with their bank may be completely different to a large corporate.
Banks across all segments now recognise the importance of digitising their onboarding processes due to the benefits it can deliver. From the bank's perspective, digital onboarding enables better data quality and reduces operational effort. By collecting information directly from customers through digital channels, banks also have an opportunity to streamline their internal processes and minimise excessive manual intervention. This results in improved efficiency, reduced costs to onboard and faster decision-making.
Customers benefit from regular updates on the progress of their application and convenient tools to check the status.

For customers, a well-designed digital onboarding process minimises the information they need to provide. It leverages data already supplied to the marketplace, ensuring that customers only provide the essential details. Additionally, customers benefit from regular updates on the progress of their application and convenient tools to check the status. The goal is to create a seamless experience where the bank completes the onboarding process with minimal human intervention.

To understand the varying levels of digital onboarding maturity, we can observe three different models currently in play in the Financial Services industry:

The Traditional Paper-Based Model: In this oldest and outdated model, customers complete paper application forms. The bank then transposes the information from the forms into their system to determine eligibility. This process often results in a poor customer experience, as customers invest a lot of time and effort before they receive confirmation of their eligibility for a product and whether the bank wants to deal with them, potentially wasting their time. This is still commonplace in many Corporate and Investment Banks (CIB).
The Partially Digital Model: A more modern approach involves online application forms that provide real-time feedback on eligibility criteria. Customers fill out the form, and certain information can be reused throughout the onboarding process. While this model offers some level of digitisation, it still falls short of a fully streamlined experience. This model can be found across all segments, to varying degrees.

The Fully Portal-Enabled Model: The most advanced model entails customers interacting directly with an onboarding system. They input their data, and as soon as they complete the required information, it is pushed into the bank's decision-making systems. This model aims to provide a seamless and efficient digital journey for customers. Retail and some Commercial / Business Banking institutions are leading the way on this model.

So, why is there such variation in digital maturity between segments?

The level of digital evolution across Financial Services segments is influenced by two things:

Customer expectations
Complexity

The variation in customer digital expectations and complexity to deliver across banking segments

Personal, Wealth, and Commercial segments generally have a standardised application process, however, in CIB and on Buy-side bespoke products and relationships play a crucial role - the level of digitisation is relatively low. For instance, negotiations with relationship managers and complex legal documents are common in CIB, limiting the extent of digitisation. Also, the complex institutional relationships, products and regulations associated with CIB and buy-side result in due diligence being a highly involved process.

Regulatory compliance dictates the information banks must collect from clients, and this varies based on the type of account being opened. Personal accounts require minimal information such as name and address, while corporate accounts necessitate additional details about stakeholders within the organisation. The complexity of products, associated regulations, and global variations further contribute to the slower progress of digitisation across segments. This also means that CIB customers have much lower expectations around digitisation as they understand the complexity and often outdated, manual nature of processes across the segment.

The personal banking segment is more much more straight-forward to digitise, as the products are relatively standardised, and the regulatory requirements are minimal. Additionally, their customers have higher expectations for seamless digital experiences, influenced by their familiarity with consumer-focused apps.

Banks like Monzo and Starling, with simplified technology landscapes and fewer legacy systems, have successfully implemented digital onboarding across retail and commercial segments. This is despite the added complexity of service models and dimensions of a company that commercial / business banking brings with it. As a result, innovation and progress in digitising the onboarding process are being driven by the advancements in these customer segments.

While significant strides have been made in delivering full digital journeys, it must be recognised that Wealth Management and CIB may always require a more personal, human touch. In CIB and the Buy-side, however, there is still huge amount of room for growth in their digital evolution. By understanding the added complexities and harmonising processes, policies, technology and data as far as possible, the large, traditional banks can learn from the successes in other segments to enhance their digital journeys. This will enable these organisations to meet evolving customer expectations and build a digital journey that differentiates them from the bank across the street.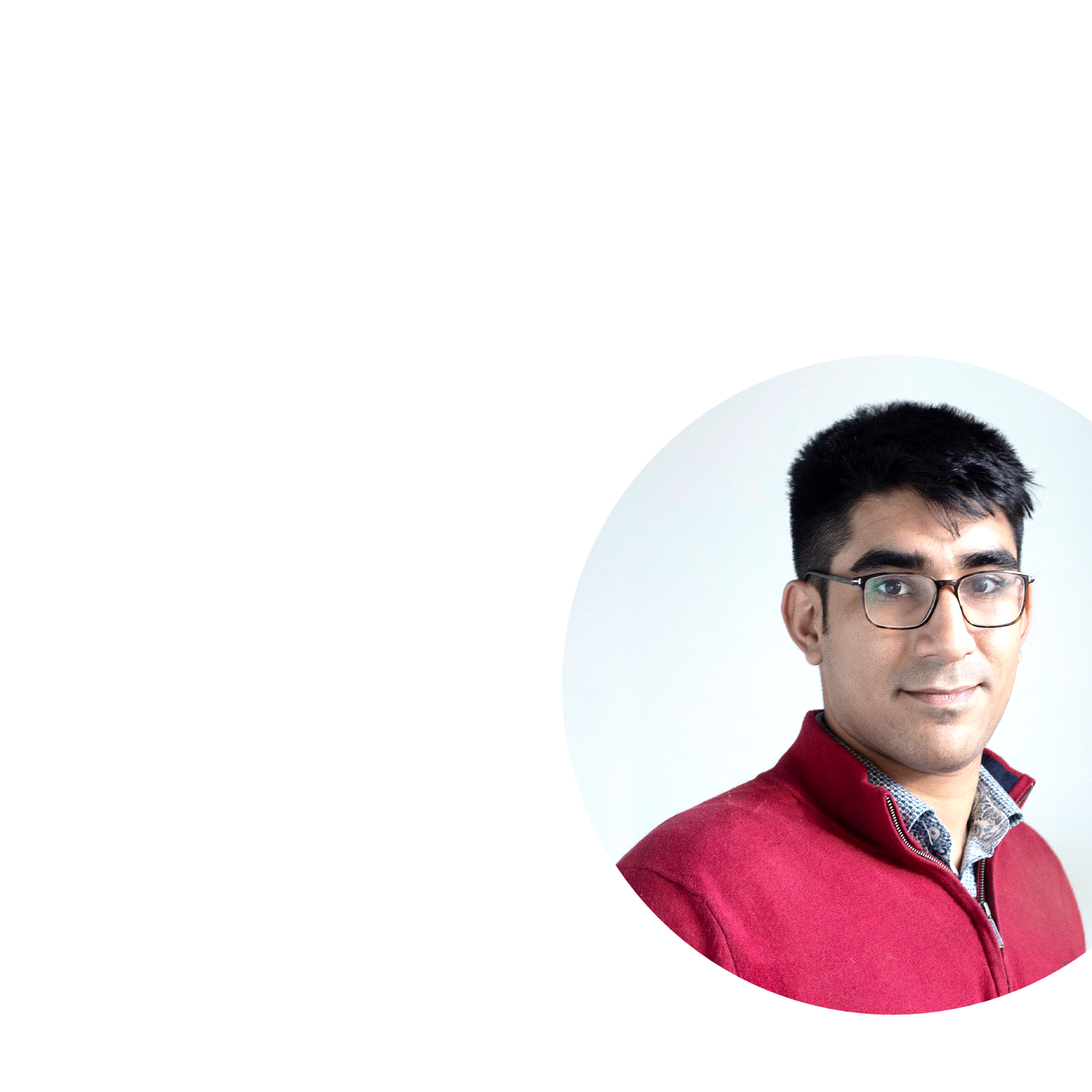 Aurora Business Analyst Saihej Mangat and Delivery Lead Joshua Dent discuss the importance of flexibility and training when transitioning from education into full-time employment.
In this candid conversation, Aurora CEO Sean Vickers and Encompass KYC Transformation Director, Howard Wimpory, delve into the challenges and misconceptions surrounding digital transformation in the banking industry. They discuss the importance of reimagining processes from start to finish, eliminating manual steps and implementing automated solutions, rather than piecemeal improvements.
Continue Reading
»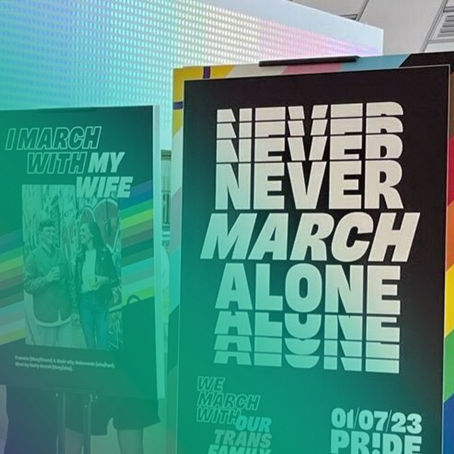 Staying true to our ethos that alignment with the LGBTQ+ community shouldn't just be contained to the thirty days of Pride Month, we're keeping the celebrations going. What better way to do this than by sharing a one-to-one chat we had with Pride In London Director of Marketing Tim Noblett. Aurora CEO Sean Vickers sat down with Tim just a few days before Pride weekend to discuss what true allyship looks like in 2023 and why this year, Pride in London was a call to action to support the trans community.
Still haven't
found what you're
looking for?
Get in Touch
Be the early bird and get in touch today if you have any questions, thoughts or ideas. We'd love to hear from you.