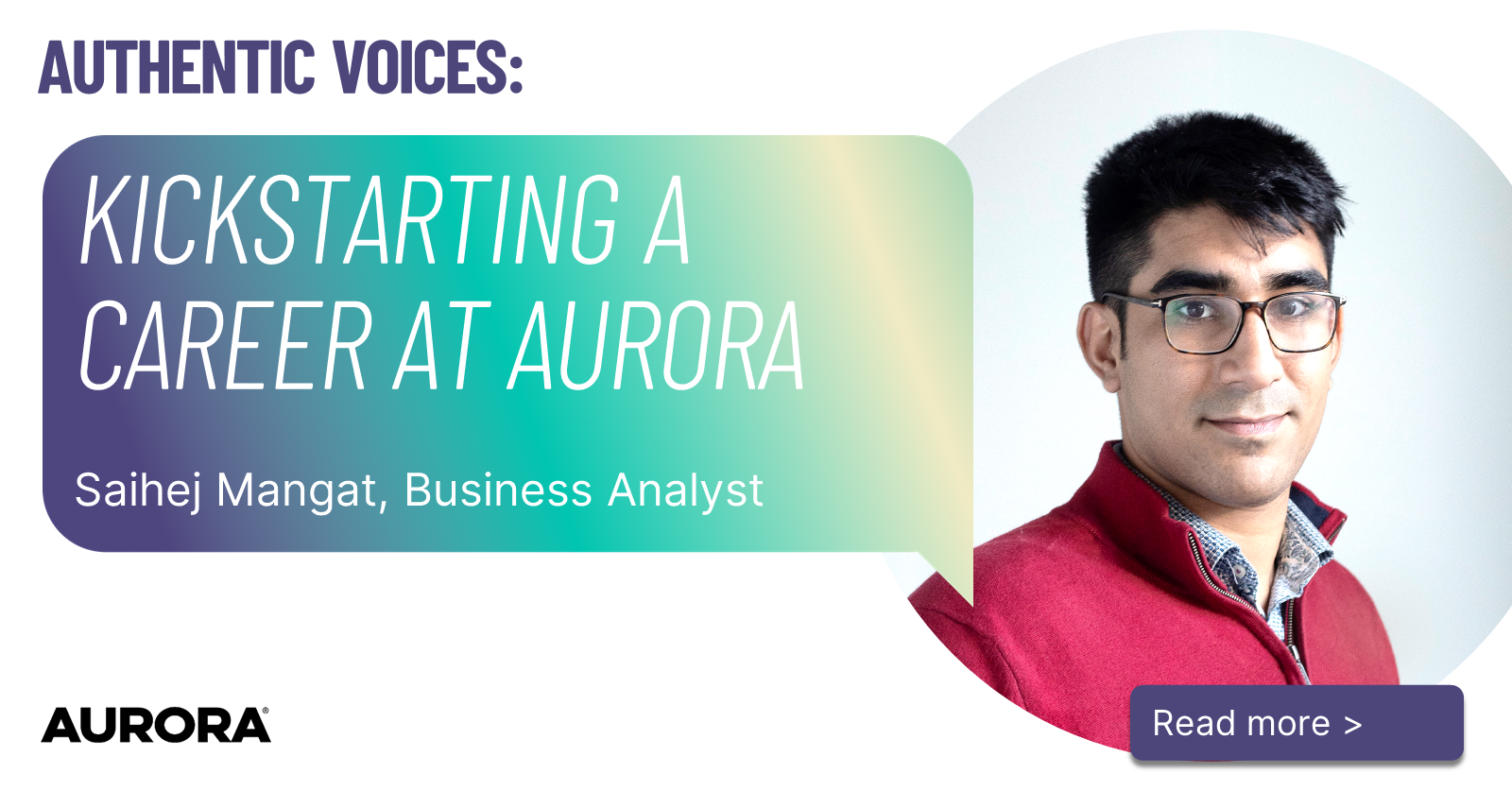 Published on
25 July 2023
Under the category
Aurora Business Analyst Saihej Mangat and Delivery Lead Joshua Dent discuss the importance of flexibility and training when transitioning from education into full-time employment.
Saihej Mangat: When I started at Aurora in June 2022 as an intern, I was in a bit of a limbo state. I was halfway between completing university and trying to find work. I'd completed three years of study, including most of my degree, but I still had two modules to complete. So, I was a majority of the way through my education but also looking to learn in a job role.
Joshua Dent: How did you find that transition?
Saihej Mangat: Aurora helped me find a balance in terms of letting me work four days a week. The fifth day was dedicated to finishing my education. That really worked as it allowed me to consistently focus on my studies whilst progressing with Aurora. I never felt overloaded with one or the other because I was able to work on both within the working week.
Joshua Dent: Yeah, for sure. It means you're able to kind of separate that time out and dedicate certain times or days to each?
Saihej Mangat: Yes, exactly.
Joshua Dent: How did you find work compared to education? How were those first few months when you were starting out in the world of work?
There was a lot of doubt, just because it was something I wasn't familiar with in education, but you do learn. Just practice and remember the more mistakes, the more you learn and the easier it all becomes.

Saihej Mangat: One thing for sure is that you learn the most whilst actually doing the job. You can do training or be told certain things but you kind of have to accept that the real learning is done on the job. I remember at the time thinking, I don't know if I'll be good at doing this or if I'll ever be able to learn to be comfortable with PowerPoint or Excel. There was a lot of doubt, just because it was something I wasn't familiar with in education, but you do learn. Just practice and remember the more mistakes, the more you learn and the easier it all becomes.

Joshua Dent: For sure. I remember when I first started out in my career, it was very similar. I was trying to get my head around certain concepts and acronyms. Before starting to get fully competent at the actual job, there is just so much learning about how things work, the terminology and all that stuff.

Saihej Mangat: Yeah. I remember quite pointedly the first meeting I went to with the office. There was a lot of technical learning around CLM and FI's. Also, learning about dealing with people in the industry- if that makes sense. It's about getting used to the different environments and characters you meet.

Joshua Dent: So, as well as the flexibility of four days in work and one day in education- you also work remotely in Birmingham. How has that working model helped you in your education, career and other aspects outside of work?

Saihej Mangat: Initially, from October to March, I had to go to Nottingham quite a bit for my education. This was maybe once a month or twice a month. Sometimes I'd have to go in for a presentation. So, having that flexibility and peace of mind knowing that I was able to go to and from Nottingham without it being an issue was great. It made it all a lot easier in terms of balancing the work and education whilst living remotely.

Moving from education to work is a big change so the peace of mind of not having to look for a place to live made that transition a lot easier, especially in the first year when I was starting a new role and trying to make an impression. Outside of work I play a lot of hockey in my downtime, so being able to keep that in my routine made it easier.

Joshua Dent: How do you find working remotely?

Spending that time building relationships with the people you work with is just as valuable as the work itself.

Saihej Mangat: I definitely do enjoy working remotely but it has its pros and cons. For the first six months, I was like 'I really enjoy it!' and 'I can do this for the rest of my life!', then I realised how much I enjoy going into the office. Spending that time building relationships with the people you work with is just as valuable as the work itself. Those relationships build quicker when you are in the office.

I would like to come into the office more because I really enjoy going in but also having that flexibility is so important. For example, if I've got training in the evening, I can work from home instead.

Joshua Dent: Personally, I find that working remotely is good for certain things, such as if you're on a lot of calls.

Saihej Mangat: Yes, exactly!

Joshua Dent: I find it easier to kind of knuckle down and get on with stuff at home. It's really good for that. But then if you need to get the team together and do a bit of a workshop, having the option of the office is important.

Saihej Mangat: Yeah

Joshua Dent: And as you mentioned, build relationships there.

Saihej Mangat: Yeah and it's way easier to just go into the office in-person and sort certain things out there rather than back and forth online.

Joshua Dent: Since you've started at Aurora, you are now full-time after finishing your degree. Aurora has provided you with training too - do you want to tell us a bit more about that?

Saihej Mangat: Yeah, so I've started my Level Four Business Analysis Apprenticeship. I started last month. I was really looking forward to that. It's a lot of content and learning but it should be useful for future projects and clients. I'm looking forward to seeing how that develops my skills further.

Joshua Dent: Yeah. Are you finding it useful and relevant so far?

Saihej Mangat: So, the first two courses were pretty generic. It's a lot of content so I found it useful in some aspects, but I think it's just more about practicing what you learn. You can be taught things, but some stuff will go over your head and some things will just stick. When you practice what's being taught it becomes muscle memory and therefore useful. I think the best practice is in real life situations.

Joshua Dent: Yeah, you could compare it to when we start driving. The theory is necessary to understand the basic concepts and rules of the road before passing the practical. It's only once you're in the car and start driving that you're able to really apply the theory.

Saihej Mangat: Exactly.

Joshua Dent: Is there anything else that's been useful while you've been kickstarting your career at Aurora?

Saihej Mangat: Yeah, what was really helpful to me was the training support. When I started Aurora, you made an effort and asked me what training I needed help with. I thought that was really useful. I struggled with PowerPoint and Excel a bit and then I remember the session we did which really helped. Some of that catered training is really good. People have different skills in Aurora so offering specific training for each person was so useful for me.

Joshua Dent: We did some training around win-win outcomes and there has been more internal training. How've you found that?

Saihej Mangat: I thought the negotiations and influencing training was really good. It was really well delivered and made a lot of sense. That was really useful. Likewise, with the CLM training too. It's all been really engaging.

If you'd like to learn more about what a career at Aurora looks like visit our careers page.

When it comes to celebrating women in technology- have we been prioritising visibility over accessibility? Aurora's Global Business Manager Rebecca Grant, Chief Operating Officer Jiwan Laly, Associate Kamile Survilaite and Partner Sally Taylor reflect on the term Women in Tech, the roots of its cause and how it could adapt for the future.

In this candid conversation, Aurora CEO Sean Vickers and Encompass KYC Transformation Director, Howard Wimpory, delve into the challenges and misconceptions surrounding digital transformation in the banking industry. They discuss the importance of reimagining processes from start to finish, eliminating manual steps and implementing automated solutions, rather than piecemeal improvements.

Continue Reading

»

Staying true to our ethos that alignment with the LGBTQ+ community shouldn't just be contained to the thirty days of Pride Month, we're keeping the celebrations going. What better way to do this than by sharing a one-to-one chat we had with Pride In London Director of Marketing Tim Noblett. Aurora CEO Sean Vickers sat down with Tim just a few days before Pride weekend to discuss what true allyship looks like in 2023 and why this year, Pride in London was a call to action to support the trans community.

Still haven't
found what you're
looking for?

Get in Touch

Be the early bird and get in touch today if you have any questions, thoughts or ideas. We'd love to hear from you.